Transform Your Outdoor Space with K.Moon Landscape Design
Professional Landscape Design Services in Cape Elizabeth, Maine
Schedule Your Consultation Now
Transform Your Outdoor Space with K.Moon Landscape Design
Professional Landscape Design Services in Cape Elizabeth, Maine
Schedule Your Consultation Now
Transform Your Outdoor Space with K.Moon Landscape Design
Professional Landscape Design Services in Cape Elizabeth, Maine
Schedule Your Consultation Now
Transform Your Outdoor Space with K.Moon Landscape Design
Professional Landscape Design Services in Cape Elizabeth, Maine
Schedule Your Consultation Now
Transform Your Outdoor Space with K.Moon Landscape Design
Professional Landscape Design Services in Cape Elizabeth, Maine
Schedule Your Consultation Now
Transform Your Outdoor Space with K.Moon Landscape Design
Professional Landscape Design Services in Cape Elizabeth, Maine
Schedule Your Consultation Now
Transform Your Outdoor Space with K.Moon Landscape Design
Professional Landscape Design Services in Cape Elizabeth, Maine
Schedule Your Consultation Now
Transform Your Outdoor Space with K.Moon Landscape Design
Professional Landscape Design Services in Cape Elizabeth, Maine
Schedule Your Consultation Now
At K.Moon Design, we artfully blend the functionality of your home's exterior with a beautifully designed, nature inspired aesthetic. We design projects emphasizing native flora combined with plants of botanical interest. Our thoughtful approach incorporates distinguished planting, custom fencing, woodwork, stone, and steel. Whether your landscape has different elevations, size limitations, or you want to create a special outdoor living space, the challenge is welcomed.
K.Moon Design of Cape Elizabeth Received People's Choice Award
K. Moon Landscape Design received the 2018 Downeast Magazine Maine Homes Reader's Choice Award for professional landscaping. Our team tackled a challenging site on the coast of Cape Elizabeth, Maine with salt, wind, and deer-resistant plants. We corrected drainage issues with a dry stream bed and added slab stone steps and stepping stones leading to an intimate peastone patio and fire pit, as well as a dry stacked stone wall. Invasive species were replaced with native plants and old farmer's walls were reclaimed and rebuilt to terrace a woodland garden. Trust us to turn your challenging outdoor space into a beautiful and functional oasis.
RESIDENTIAL LANDSCAPE DESIGN
The design process begins with an initial landscape design consultation at your home or building site. This introduction is a terrific way for us to become acquainted and for me to learn about your tastes and lifestyle. During this meeting, we'll discuss your needs and hopes regarding the current landscape or the future one you wish to create. I'll evaluate the site conditions and make suggestions to overcome challenges and or fulfill your wishes. There is a $200 minimum initial landscape design consultation fee. The consultation is usually followed up with a 2D digital landscape design.
CONTRACTOR LANDSCAPE DESIGN
We help landscape contractors with limited time or without a designer on staff with their design projects. We can meet your clients on your behalf or accompanied by you. We can produce full plans or just digitize a hand drawn sketch of yours. This service will save you time and let you focus on installations. Your logo will appear on the designs. Please contact us for pricing.
This service is for those who wish to learn about their landscape and discover it's positive and negative attributes. The evaluation is a handy tool for new home purchases, renovations and the "do it yourselfer" looking for guidance. We'll identify the kind of trees, shrubs, and perennials you have and assess their health. We check the integrity of patios, stone walls, and drainage. We'll make suggestions on how to enhance the property and how to care for it. There is a $200 minimum fee for the evaluation.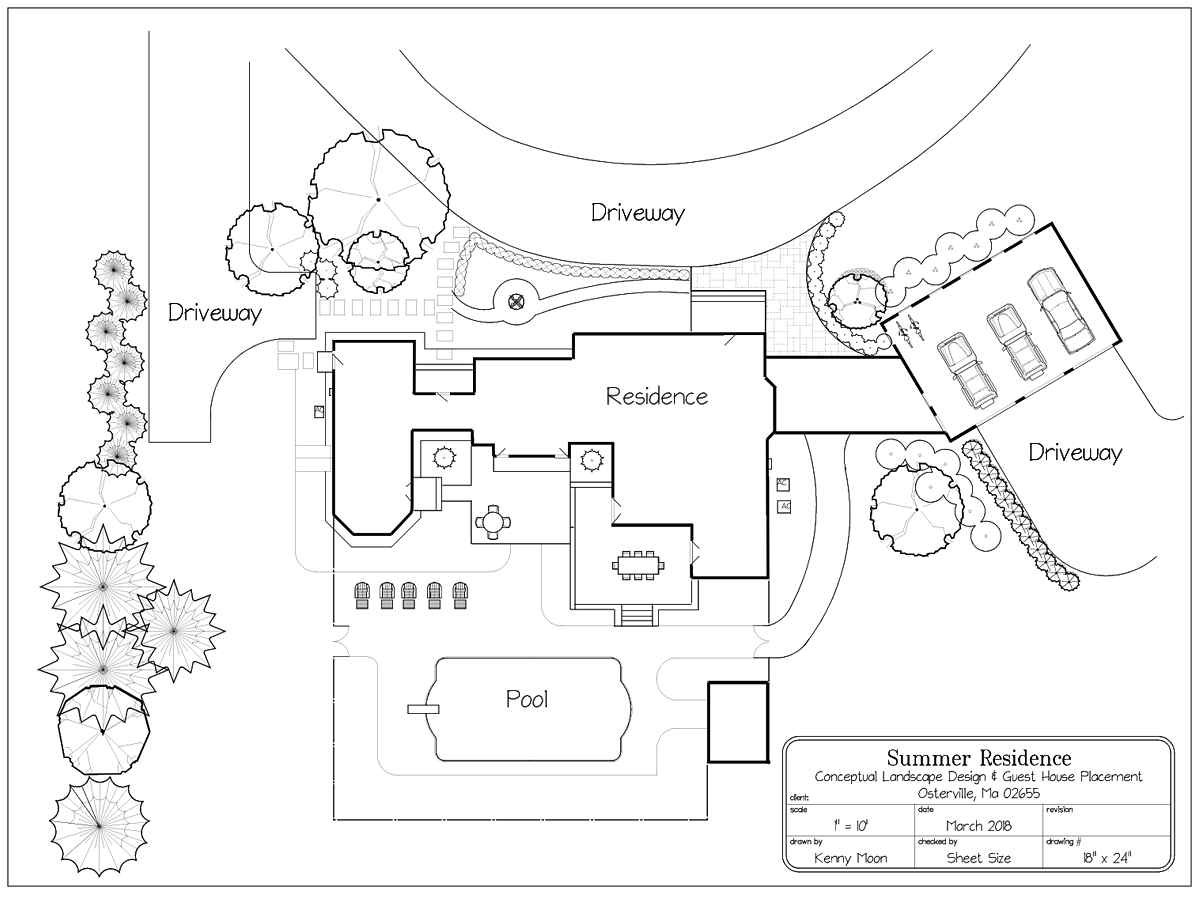 Elevated Patios & Stone Retaining Walls
Pump House & Changing Area
About K.Moon Landscape Design
Kenny Moon brings over 30 years of landscape design and construction experience to K. Moon Design. His design theory is dictated by an inherent practical perspective and a love for creativity and beauty. An artisan and founding member of the "Fresh Art" show as a furniture builder, he appreciates fine details and natural materials. As the Founder of Moonstruck Landscape Construction, he respects a commitment to quality materials and construction integrity. Kenny has a Bachelor of Science degree in Industrial Technology and is a certified Maine Arborist. Kenny's technical education, his creative mind and extensive plant knowledge are critical assets to your successfully completed project.
Kenny and his family have lived in Cape Elizabeth since 1995 where they have lovingly restored one of the oldest homes in the area and raised 3 boys. They have lived in the Netherlands for family, work and cultural experiences returning to their home in Cape Elizabeth after 5 years. Beyond his professional accomplishments he enjoys travel on land and sea, sports and concerts.
I have worked with many types of design and development professionals over the years, however K. Moon Design & Landscaping stands out amongst the best! From the design to the installation of my project, Kenny was knowledgeable, hands-on, and so easy to work with. His knowledge of plantings and all aspects of landscaping is unsurpassed. His designs were original and detailed. Kenny Moon is the utmost professional from start to finish!
Kenny Moon has been our landscape designer for several years, at a previous address and now at our new home. After construction of our new home in Cape Elizabeth, we were left many eyesores. Kenny transformed these areas into lovely, imaginative "rooms" of outdoor enjoyment. One of our favorites is the patio by the shore. We love to sit and watch the waves while the grandchildren look for sea glass on the beach.  Half the fun of seeing a new area emerge beautifully is being surprised by Kenny's creativity! Kenny is reliable and dependable as well as being artistic.  Kenny is grounded and organized.  You can count on him to start and finish on time.
My wife and I worked closely with Kenny to design a hardscape and garden for our recently renovated home in Portland. Kenny quickly understood what we were trying to achieve and was full of ideas and suggestions for how to optimize and beautify our space. He was helpful and responsive and extremely easy to work with. We highly recommend Kenny and his work.
Schedule Your Consultation Now
Kenny Moon
K.MOON Landscape Design
Please let us know what's on your mind. Have a question for us? Ask away.